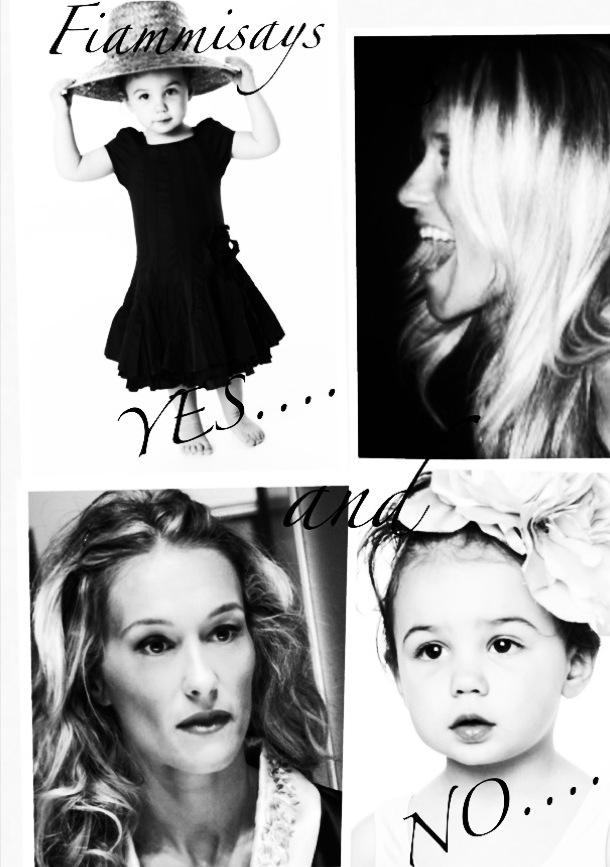 Here we are…. this is the SECOND appointment with my section "FIAMMISAYS" started on July 2012. For an introduction and brief description of my new "adventure", take a look HERE (you can find there also the first appointment – JULY)
Eccoci… questo è il secondo appuntamento con la mia rubrica "FIAMMISAYS" partita a Luglio 2012. Per una introduzione e breve descrizione di questa mia nuova "avventura", guarda QUI (ci puoi trovare anche il primo appuntamento – LUGLIO)
MOTHER
(for those who, like me, can finally go on vacation and also for those who are going to go – per chi, come me, può finalmente andare in vacanza e anche per chi ci sta per andare)
YES TO:
THE FLUORESCENT in all his "shades", but just again this month. In September, then, we put a fine point and we forget it…. maybe we could allow just some small, and I emphasize small, details! Get creative, therefore, in this month when, still, everything is permitted.

IL FLUO in tutte le sue "sfumature", ma solo ancora per questo mese. A settembre, poi, ci mettiamo un bel punto e ce lo scordiamo….magari permettendoci solo qualche piccolo, e ribadisco piccolo, dettaglio! Sbizzarrisciti, quindi, quanto vuoi in questo mese dove, ancora, tutto è permesso.
THE STRAW HATS. If you have one of this in the closet, it's time to pull it off, to tie a beautiful scarf and to wear it with extreme ease, both on the beach, and at  a cocktail at sunset. No, please, in the evening

I CAPPELLI DI PAGLIA. Se ne hai uno nell'armadio, è arrivato il momento di tirarlo fuori, di legarci un bel foulard e di portarlo con estrema disinvoltura sia sulla spiaggia, sia ad un aperitivo al tramonto. No, per favore, di sera.
THE ESPADRILLAS, all the rage this year, maybe buy them in a solid and neutral color to give some respite to Fluo. No, please, to espradillas with wedge!!

LE ESPADRILLAS, di gran moda anche quest'anno, magari acquistale di un colore unito e neutro per dare un pò di respiro al Fluo. No, mi raccomando, alle espradillas con zeppa!!!!
NO TO:
THE ANKLE BRACELET, pleaseeeee, NO, the ankle bracelet NO, even in August at the sea! If you have more than fifteen years, remove it now and tie twice on the wrist! The effect is really OUT!
LA CAVIGLIERA , ti pregooooooo, NO, la cavigliera NO, nemmeno in Agosto al mare!! Se hai più di quindici anni toglila subito e legatela due volte al polso!! L'effetto è davvero OUT!
THE WEDGES ON THE BEACH, wedges are perfect for the afternoon, for an easy evening, but not for the beach. Slippers, sandals, flat, choose what you like, but leaves the wedges at home. The effect "taller" is not suitable to the beach (unless you're not BB in Saint Tropez), but sooner or later you must go for a swim, and then ….

LE ZEPPE IN SPIAGGIA, le zeppe sono perfette per il pomeriggio, per una serata easy, ma non per andare in spiaggia. Ciabattine, infradito, ballerine, scegli cosa preferisci, ma lascia le zeppe a casa. L'effeto "più alta" non è adatto alla spiaggia (a meno che tu non sia BB a Saint Tropez), prima o poi dovrai pur andare a fare il bagno, e allora….
THE HEAVY MAKEUP on the beach. The effect leaky mask is around the corner …. a bit of concealer and a little bit of mascara (even waterproof) are more than enough.

IL TRUCCO PESANTE in spiaggia. L'effetto mascherone colante è dietro l'angolo….un pò di correttore ed un filo di mascara (magari waterproof) sono più che sufficienti.
DAUGHTER
(again for those who, like Fiammetta, can, finally, go to the sea, or is about to go there –  sempre per chi, come Fiammetta, può, finalmente, andare al mare, o è in procinto di andarci)
YES TO:
THE COLORED SUN GLASSES (red, yellow, green ..), they are fun and, more, they protect from the sun. If your daughter is too small and does not want them, expect next year, you will see that she will seek them, they are female and, especially, small women who grow… 😉
GLI OCCHIALINI DA SOLE COLORATI (rossi, gialli, verdi..), sono divertenti ed in più proteggono dal sole. Se la tua bambina è troppo piccola e non li vuole, aspetta il prossimo anno, vedra che li cercherà lei, sono femmine e, soprattutto, piccole donne che crescono… 😉
THE POLKA DOT SWIMWEAR, wonderful, fun and fashionable, with the red background, then, they are ultra fashionable and perfect to combine with colorful sandals and bandanas in marine style.
I COSTUMI A POIS, meravigliosi, divertenti e di gran moda, con lo sfondo rosso, poi, sono ultra fashion e perfetti da abbinare a sandalini colorati e bandane in stile marinaro.
THE SHIRT DRESSES, if white even perfect. To wear always: in the daytime with the slippers on the beach, in the evening with a little belt to go out to dinner and to the rides! Easly machine washable and without the need for iron.
I VESTITI CAMICIA, se bianchi addirittura perfetti. Da portare sempre: di giorno con le ciabattine in spiaggia, la sera con una cinturina per andare a cena fuori ed alle giostrine!! Lavabili facilmente in lavatrice e senza bisogno di ferro da stiro.
NO TO:
THE FLIP FLOPS for smaller, they are bad for their feet and your daughter could have a difficulty walking. Yes if your child has more than three years.
LE INFRADITO per le più piccole, fanno male ai piedini e loro hanno difficoltà a camminare. Sì se la tua bambina ha più di tre anni.
THE BIKINI (two pieces) if your child has less than five years, at that time, unfortunately, she will necessarily want it!! The effect is, however, quite ridiculous and the signs that remain even more.

IL COSTUME A DUE PEZZI se la tua bambina ha meno di cinque anni, tempo in cui, purtroppo, lo vorrà per forza!!!! L'effetto è, comunque, abbastanza ridicolo ed i segni che rimangono ancora di più.
THE CEREMONY DRESSES AT 5 PM to go for a stroll downtown. It 's true, you are on vacation, you still have wonderful clothes with the label and you want to well dress up your little girl, ok, I understand, but I ask you only to think of them. How would you feel with a long dress and snug with a train to go shopping at the supermarket? If the answer is: "good", then, make the creature wear a tulle dress, all lace and embroidery with a flared skirt at 5 PM to go get some ice cream!

I VESTITI DA CERIMONIA ALLE 5 DEL POMERIGGIO per andare a fare un giro in centro. E' vero, se in vacanza ed hai vestiti meravigliosi ancora con l'etichetta e vuoi vestire bene la tua bambina, ok, ti capisco, ma ti chiedo solo di pensare a loro. Come ti sentiresti con un bel vestito lungo, fasciante e con lo strascico per andare a fare la spesa?? Se la risposta è : "bene", allora, metti pure alla creatura un vestito tutto tulle, pizzi e ricami con gonna a campana alle 5 del pomeriggio per andare a prendere un gelato!!
SON
(if also the son, finally, go to the sea, with mom and sister, or is about to go there – se anche il figlio maschi, finalmente, va al mare con la mamma e la sorella, o è in procinto di andarci)
YES TO:  
THE STYLE SAILOR, go with lines and little anchors. Perfect the costumes with blue background and tees with red inserts. Fantastic rompers for the babies.

LO STILE MARINARO, avanti con righe ed ancorine. Perfetti i costumi con sfondo blu e le magliette con inserti rossi. Fantastiche le tutine per i neonati.
THE BOXER SWIMWEAR to go to the beach, also brightly colored. They go great with a shirt on, not with a singlet, please!

I COSTUMI BOXER per andare in spiaggia, anche coloratissimi. Vanno benissimo con una maglietta sopra, non con la canottiera, per piacere!!
THE BANDANA, I've seen some relly nice, with the pirates, the animals, etc. .. and they are very much better than many hats that you see around. If you wet it, it is perfect for the hottest hours of the day, hours in which, however, children should stay away from the sun and heat!

LA BANDANA, ne ho viste di carine, con i pirati, con gli animali, ecc..e sono molto molto meglio di tanti cappelli che si vedono in giro. Se la bagni è perfetta anche per le ore più calde della giornata, ore in cui, comunque, i bambini dovrebbero stare lontano dal sole e dal calore!
NO TO:
PAJAMAS TO THE SEA, even if your pajamas is super fashionable and it might seem a suit, please, take it off your child before taking him to sea. There are millions of shirts comfortable, affordable and easy to put that with a pair of shorts any, are perfect. OK???

IL PIGIAMA AL MARE anche se il tuo pigiama è super fashion e potrebbe sembrare una tuta, ti prego, toglilo al tuo bambino prima di portarlo al mare. Ci sono milioni di magliette comode, a buon prezzo e facili da mettere che, con un paio di shorts qualsiasi, sono perfette. OK?????
THE TOPS OF FOOTBALL TEAMS if you are not invited to a party where it is specifically requested such clothing or if you're not going to play with the father. Stop with these mini "Totti" that go around to the seaside resorts.

LE MAGLIE DELLE SQUADRE DI CALCIO se non si è invitati ad una festicciola dove è espressamente richiesto un tale abbigliamento o se non si sta andando a giocare con il babbo. Basta con questi mini "Totti" che girellano per le località balneari.
THE SNEAKERS AT THE CALF to go to sea … forgetting that, in a child, they are really ugly even in January, do you try to think at the five thousand degrees that there will be inside of this shoe and at the gelatinous consistency that may have taken on the foot of your child?? A slipper or, if you must, canvas sneakers, will be just fine.

LE SNEAKERS AL POLPACCIO per andare al mare… tralasciando che, in un bambino, sono davvero antiestetiche anche a gennaio, provi a pensare ai cinquemila gradi che ci saranno all'interno di tal calzatura ed alla consistenza simil gelatinosa che può aver assunto il piedino del tuo bambino?? Una ciabattina o, se proprio vuoi, una sneaker in tela, andranno più che bene.
One last tip for ALL: SUN PROTECTION!! I recommend
Un ultimo consiglio per TUTTI: PROTEZIONE SOLARE!!!! Mi raccomando…
I hope you enjoyed also this time and do not miss the next YES and NO (on the FIRST MONDAY of SEPTEMBER).
Spero che tu abbia passato un momento piacevole anche questa volta e non perdeterti il prossimo SI e NO (il PRIMO LUNEDI di SETTEMBRE).
Related articles