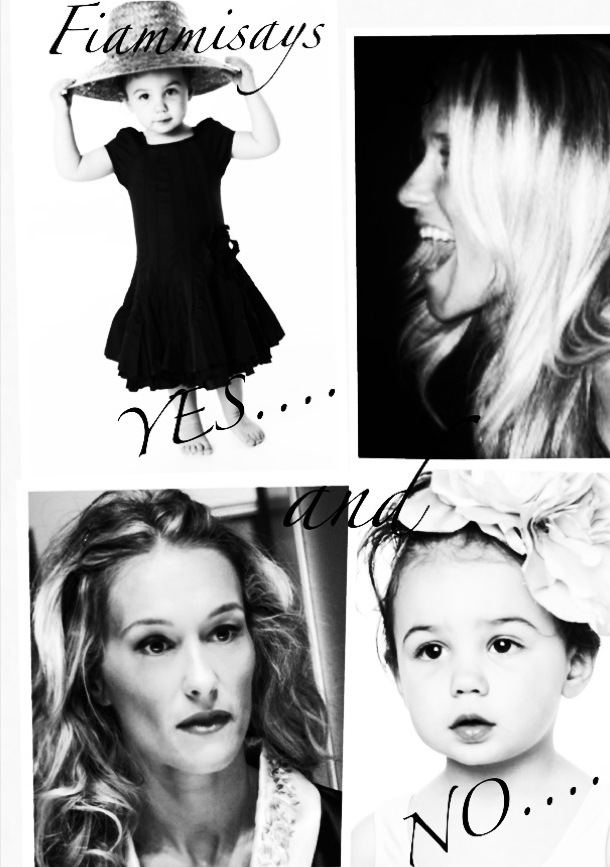 Here we are…. this is the ELEVENTH appointment with my section "FIAMMISAYS" started on July 2012. For an introduction and brief description of my new "adventure", take a look HERE (you can find there all the others appointments)
Eccoci… questo è l' UNDICESIMO appuntamento con la mia rubrica "FIAMMISAYS" partita a Luglio 2012. Per una introduzione e breve descrizione di questa mia nuova "avventura", guarda QUI (ci puoi trovare tutti gli altri appuntamenti)
MOTHER (for those who, like me, believe that the simplicity of the guests for any type of ceremony, is the only outfit to show)- per chi, come me, crede che la semplicità degli invitati ad ogni tipo di cerimonia, sia l'unico outfit da mostrare)
YES TO:
THE PASTEL COLORS

, granted or not, the

ceremonies

in this month of

May

(baptisms, holy communions, confirmations, small parties of our children), require, necessarily, pastel colors. Unless you do not have to attend a super fancy evening wedding, black, red and other colors that would focus the attention on you are banned. Ok? The simplicity, my dear, the

simplicity

. Perfect the blue as the background color.

I COLORI PASTELLO,

scontato o no, le

cerimonie

in queste mese di

Maggio

(battesimi, comunioni, cresime, festicciole dei nostri bambini), richiedono, necessariamente, i colori pastello. A meno che tu non debba presenziare ad un super lussuoso matrimonio di sera, banditi il nero, il rosso e tutti gli altri colori che focalizzerebbero l'attenzione su di te. Ok?? La

semplicità

, mia cara, la semplicità. Perfetto il blu come colore di sfondo.
THE CLUTCH BAG, or POCHETTE, if you prefer. It 'time to leave at home bags and big bags and to turn our elegance in

small or very small bags

to carry by hand and that can contain up to our cell phone…. They are perfect for ceremonies and for our

spring parties.

Do you need a change of shoes or any other object larger than a hand? Put in the car a shopper bag with inside all your closet and everything you need for makeup (you never know), settle down, leave everything in the car and arrive at the party in a perfect mood and just with a wonderful and super fashion clutch.
LA CLUTCH BAG, o POCHETTE che dir si voglia. E' l'ora di lasciare a casa borse e borsoni e di affidare la nostra eleganza a

piccole o piccolissime borsine

da portare rigorosamente a mano e che possano contenere al massimo il cellulare…. Perfette per le cerimonie e per le nostre

feste primaverili.

Hai necessità di un cambio di scarpe o di qualsiasi altro oggetto più grande di una mano?? Metti in macchina una shopper bag con dentro tutto il tuo guardaroba e tutto il necessario per il makeup (non si sa mai), sistemati, lascia tutto in auto e, alla fine, arriva alla festa perfetta e solo con una meravigliosa e super fashion clutch.
THE BLAZER

and I'm tempted to say no more. Any type of blazer is perfect for ceremonies, choose the color you prefer (I repeat no to black and to red, no to white for weddings), but if I can give you some advice, opt for the

SMOKING blazer,

also in warm pastel shades (beige, pink, orange). You will be elegant, formal enought and very fresh.

LA GIACCA 

e mi verrebbe da non aggiungere altro. Qualsiasi tipo di giacca è perfetta per le cerimonie, scegli pure il colore che preferisci (ripeto no al nero ed al rosso, no al bianco per i matrimoni), ma se posso darti un consiglio, opta per la

giacca modello SMOKING

, anche nei toni caldi del pastello (beige, rosa, arancio). Sarai elegante, formale al punto giusto e molto fresca.
NO TO:
THE MINI, no, please!! The miniskirt not.

It is not elegant

, not suitable for ceremonies and it is

not practical

to run after your children or your husband … ;-). Perfect the lounguette (the pencil skirt) or, at worst, a dress just above the knee, but it must be simple, fresh, flowing (non-adherent) and maybe with small flowers or tiny polka dots. You can wear the the mini when you come back home and spend a romantic evening with your love.
LA MINIGONNA, e no, ti prego!!!!!! La minigonna no.

Non è elegante

, non è adatta alle cerimonie e

non è nemmeno pratica

per correre dietro ai tuoi bambini o a tuo marito…;-). Perfetta la lounguette (la gonna matita) o, al limite, un vestitino appena sopra al ginocchio, ma deve essere semplice, fresco, svolazzante (non aderente) e magari con piccoli fiorellini o piccoli pois. La minigonna te la metti poi quando torni a casa e passi una serata romantica con il tuo amore.
THE BOOTS, or any other shoe that is not a simple pump. The platform is fine, on the contrary, it is necessary, also the colors are fine, in fact, with a simple and sober look, a colored shoe will also be fun, but it's enough.

No boots, no biker boots, no texan boots, no cowboy boots, much less boots with high heel or high boots.

No, absolutely not. We're going to a ceremony, which, more often than not, takes place in the Church, in any other place of worship or in any place institutionally recognized.

A bit of respect

…. Ok??
GLI STIVALI, o qualsiasi altra scarpa che non sia un semplice decolletè. Va benissimo il plateau, anzi, è necessario, vanno benissimo i colori, anzi, con un look semplice e sobrio una scarpa colorata sarà anche divertente, ma basta così.

Niente stivali, biker boots, texani, camperos, tanto meno stivali con tacco alto o stivali alti

. No, assolutamente no. Stiamo andando ad una cerimonia, che, il più delle volte, si svolge in Chiesa, in qualsiasi altro luogo di culto o  in qualsiasi luogo istituzionalmente riconosciuto.

Un pò di rispetto

….Ok???
THE LEATEHER/THE SKIN,

is that you are wearing, is that you leave exposed

. Let me explain. No to leather clothing, jackets, top, even if in pastel colors or very light (I do not even take into consideration the black color).

The leather is not suitable for ceremonies,

you have a million other materials to choose from (cotton, linen, silk, chiffon, lace, etc ….). And also no to

the skin too much exposed

. For the necklines and for the exaggerated clothin tears, wait a few other occasion or, better yet, wait until you go to the beach.
LA PELLE, 

sia quella che indossi, sia quella che lasci scoperta.

Mi spiego. No a vestiti, giacchini, top in pelle, nemmeno se in colori pastello o molto chiari (il nero non lo prendo nemmeno in considerazione).

La pelle non è adatta alle cerimonie

, hai un milione di altri materiali da scegliere (cotone, lino, seta, chiffon, pizzo, ecc….). E no anche alla

pelle lasciata troppo in vista

. Per le scollature e gli spacchi esagerati, aspetta qualche altra occasione o, meglio ancora, aspetta di andare al mare.
DAUGHTER (for those who, like Fiammetta, for the parties with her little friends, leaves in the closet the colorful dresses and wears the simplicity. –  per chi, come Fiammetta, per le festicciole con gli amichetti, lascia i vestiti coloratissimi nell'armadio e si veste di semplicità.)
YES TO:
THE DRESS, if, like me, you prefer to dress your little girl with pants or skirts, now is the time to spend to

purchase a beautiful and very suitable dress for the parties.

The simplicity must be respected, but the imagination can have its own space. Flowers, polka dots, stripes, pastel colors, the colors of the earth. Each dress that you will purchase for her with all your love, make, wherever you go, perfect and in tune with the environment. An example of what I have in mind comes by CASHMIRINO whic has created a

wonderful lookbook

, full of original ideas to keep in mind before making any purchase for parties. Here it is, take a look at this LOOKBOOK
IL VESTITO,  se come me, preferisci vestire la tua bambina con pantaloni o gonnelline, adesso è il momento di passare

all'acquisto di un bellissimo e adattissimo per le feste vestitino

. La semplicità da rispettare, ma la fantasia può avere il suo spazio. Floreali, a pois, a righe, nei colori pastello, nei colori della terra. Ogni abito che acquisterai per lei con tutto il tuo amore, la renderà, ovunque andrete, perfetta ed in tono con l'ambiente. Un esempio di quello che ho in mente lo ha messo CASHMIRINO nero su bianco creando un

lookbook meraviglioso

, pieno di idee originali da tenere bene a mente prima di effettuare un qualsiasi acquisto "festaiolo". Eccolo, dai un'OCCHIATA a questo LOOKBOOK.  
THE WHITE, not for us moms, especially if it is about a wedding party,

super YES for our girls

. I find it the true perfect color for any type of ceremony, the

artlessness 

of children marries beautifully with the

whiteness

of the classic party dress. Preferably knee-length and without many other "embellishments"
IL BIANCO, no per noi mamme, specialmente se si tratta di un matrimoni,

super SI per le nostre bambine

. Lo trovo il vero colore perfetto per qualsiasi tipo di cerimonia,

l'ingenuità

dei bambini si sposa meravigliosamente con il

candore

del classico vestito da festicciola. Meglio se lungo fino al ginocchio e senza tanti altri "abbellimenti".
THE SAN GALLO LACE, I love it! For our girls it is really wonderful and what better than a party to wear a

garment made of dexterity , love for beauty and extreme elegance.

So beautiful the dresses, too cute the blouses to match with straight trousers with turn-up at the bottom, ethereal the skirts to match with cotton top and flat patent leather shoes.
IL PIZZO SAN GALLO, io lo adoro!!! Per le nostre bambine è davvero meraviglioso e cosa di meglio di una festa per indossare un

capo fatto di manualità, amore per il bello ed estrema eleganza

. Bellissimi i vestitini, carinissime anche le bluse da abbinare con un pantalone dritto con risvolta in fondo, eteree le gonnelline da abbinare con top in cotone e ballerine di vernice.
NO TO:
THE HAT, perfect for the daughter of Kate when she shall attend to some

royal baptism

, not for our girls which of royal, at most, they will find a nice chicken to devour …. ;-). She will also be awkward and will not be free to run and play with other children. If you want to put something on her head,

go for a nice colorful scarf to tie  behind her neck

. Elegant, super chic and also practical.
IL CAPPELLO, perfetto per la figlia di Kate quando dovrà presenziare a quale

battesimo reale,

no per le nostre bambine che di reale, al massimo, si troveranno un bel pollo da divorare….;-). Sarà anche impacciata e non sarà libera di correre e giocare con gli altri bambini. Se le vuoi mettere qualcosa in testa,

opta per un bel foulard colorato da legarle dietro la nuca

. Elegante, super chic ed anche pratico.
THE BLACK

, although it will be the new trend for next winter, especially when paired with the blue (I do not mind at all this mix), I find that

it is not absolutely suitable for ceremonies.

It is not suitable for us, let alone girls.

The ceremonies are times of joy, of cheerfulness, of sharing often religious; then let's celebrate properly and let's color our mind.

Preferably if with neutral colors.

IL NERO,

anche se sarà la nuova tendenza del prossimo inverno, specialmente se abbinato con il blue (a me non dispiace affatto questo mix), trovo che

non sia assolutamente adatto per le cerimonie

. Non è adatto per noi, figuriamoci per delle bambine.

Le feste sono momenti di gioia, di spensieratezza, di condivisione spesso religiosa; allora festeggiamo adeguatamente e coloriamo il nostro animo.

Meglio se con colori neutri.
THE JEWELS

for the girls. Go for a

little bracelet

, for a small pair of earrings,

but not decorate

them just because about party we're talking about, okay? No to big necklaces, to heavy rings and not even to the collar full of beads that us moms have flaunted this winter (or last summer). They are just too much for our girls

I GIOIELLI

 per le bambine. Vada per un braccialettino, per un piccolo paio di orecchini per le più grandi,

ma non addobbiamole a "festa"

solo perchè di festa stiamo parlando, Ok?? No a collane impegnative, ad anelli pesanti e no anche ai colletti di perline che abbiamo sfoggiato noi mamme questo inverno (o la scorsa estate) che sono davvero troppo per le nostre ragazze.
SON (for those who, like her sister,  will be very elegant at parties and get-togethers, thanks to the simple harmony of his look-  per chi, come la sorella, sarà elegantissimo durante feste e festicciole, grazie alla semplice armonia del suo look )
YES TO: 
THE LINEN SHIRT,

it is perfect for these occasions, it makes your child

elegant, but not too much

. So nice with

micro stripes, perfect in white or in blue

. Match it with khaki pants, blue jacket and shoe with eyelets (lace-up shoes if your boy is already almost a boy). An example? Have a look to

THIS LOOKBOOK

and be inspired

LA CAMICIA DI LINO

 s  perfetta per queste occasioni,

per rendere il tuo bambino elegante, ma non troppo

. Carina con

micro righine, perfetta bianca e celeste.

Abbinala con pantaloni caki, giacca blu e scarpa con occhietti (stringata se il tuo maschietto è già quasi un ragazzo). Un esempio?? Guarda

QUESTO LOOKBOOK

e lasciati ispirare.
THE BRACES,

are fantastic! I find them really special and they are

capable to turn a banal look into a very interesting and harmonious one

. What better opportunity to wear them than a party with friends? Put under a tunic, a vest on, a pair of cotton trousers in neutral colors as much as you like, and why not, a simple and straightforward sneakes and your baby will be the most chic of all the party …;-)

LE BRETELLE,

  sono fantastiche!!! Le trovo davvero particolari

e sono capaci di rendere un look banalissimo in un insieme interessantissimo ed armonico

. Quale migliore occasione per indossarle di una festa tra amici?? Una tunica sotto, un gilet sopra, un paio di pantaloni di cotone nei colori neutri e come più ti piacciono e, perchè no, una sneakes  semplice e lineare ed il tuo bambino sarà il più chic di tutta la festa…;-)
THE BLUE JACKET

and I mean blue. Maybe

in fleece

if the party does not require a too formal look,

or in cotton and linen

if the ceremony is a bit more "pretentious". Very elegant with a mandarin collar. No to the double-breasted. Match it with dark blue jeans, a t-shirt and blue laced-up shoes.

LA GIACCA BLU 

ed intendo blu. Magari

in felpa

 se la festa non richiede un look troppo formale; oppure in

cotone e lino

se la cerimonia è un pò più "pretenziosa". Elegantissima con il collo alla coreana. No a quella doppio petto. Abbinala anche con i jeans blu scuri, una t-shirt e delle allacciate blu.
NO TO:
THE SUIT, 

I said YES 'to the jacket, now

do not overdo!

. No to the suit before your male has attained the age of twenty. So, I hope for him, he will wear by himself …;-).

The suit is not suitable for children

, makes them seem smaller men and often also makes them clumsy. Yes to the jacket (see above) and yes to the egant pants, but worn alone with round neck and colorful sweater, and,  ABSOLUTELY, with the sneakers. Everything is clear???

IL COMPLETO 

 ti ho detto SI' alla giacca,

ora tu non esagerare!

. No al completo giacca e pantaloni prima che abbia compiuto i vent'anni. Allora, spero per lui, si vestirà da solo…;-).

Il completo non è adatto ai bambini,

li fa sembrare piccoli uomini e spesso li rende anche impacciati.  Ok alla giacca (vedi sopra) e ok ai pantaloni più eleganti, ma portati da soli con paricollo colorato e, ASSOLUTAMENTE, con le sneakers. Tutto chiaro???
THE LOAFERS

, I'm sorry but i just can not do it! Not to the loafers!! At least, not for the ceremonies. Even if your child is the birthday boy or the groom …. ;-). T

hey also seem uncomfortable!

Choose all the other possible solutions. Shoes with eyelets, lace-up, boat shoe, and, without any hesitation, the sneakers.

The boys wearing a little more elegant clothes and with the sneakers are really super fashion

. Believe me!!!

I MOCASSINI

 , scusami ma proprio non ce la faccio!!! I mocassini no!!!! Almeno, non per le cerimonie. Nemmeno se il tuo bambino è il festeggiato o lo sposo….;-).

A me sembrano anche scomodi!!!

Opta per tutte le altre soluzioni possibili. Sandalino con occhietti, stringata, scarpa da barca, e, senza alcuna remora, la sneakers.

I maschietti vestiti un pò più eleganti e con le sneakers sono davvero super fashion.

Credimi!!!!
THE TIE OR THE BOW TIE 

or any other devilry that makes your baby male

only an imitation of an elegant adult and not an elegant child.

Do not you think that the tie can only bother him? And the bow tie?? I do not comment. For some idea about the Carnival, look at the FIAMMISAYS of February. If you just want to add something, take a

small scarf and stick it, as well as it comes, in the breast pocket of his shirt

. Here it is, this is the maximum that I grant you. Too hard? No, I do it for you!!!

LA CRAVATTA O IL PAPILLON

 o qualsiasi altra diavoleria che renda il tuo bambino

solo un'imitazione di un adulto elegante e non un bambino elegante.

 Non credi che la cravatta possa dargli solo fastidio?? Ed il papillon??? Non commento. Per qualche idea sul Carnevale, guarda il FIAMMISAYS di Febbraio. Se proprio vuoi aggiungere qualcosa, prendi un

piccolo foulard e infilalo, così come viene, nel taschino della sua camicia

. Ecco, questo è il massimo che ti concedo. Troppo dura?? No, lo faccio per te!!!
——————–
One last tip for ALL: On these occasions LESS IS MORE. ELEGANCE is in the attitude, in the education, in being free to be, even during the ceremonies, CHILDREN. Dress your child in a neutral way and try to make him understand theESSENCE OF WHAT YOU ARE CELEBRATING.
Un ultimo consiglio per TUTTI: In queste occasioni MENO E' MEGLIO. L'ELEGANZA sta nell'atteggiamento, nell'educazione, NELL'ESSERE LIBERI DI ESSERE, anche durante le cerimonie, DEI BAMBINI. Vesti di neutro il tuo bambino e cerca di fargli capire l'ESSENZA di QUELLO CHE STATE CELEBRANDO. 
——————–
I hope you enjoyed also this time and do not miss the next YES and NO (on the FIRST MONDAY of JUNE).
Spero che tu abbia passato un momento piacevole anche questa volta e non perdeterti il prossimo SI e NO (il PRIMO LUNEDI di GIUGNO).
Related articles