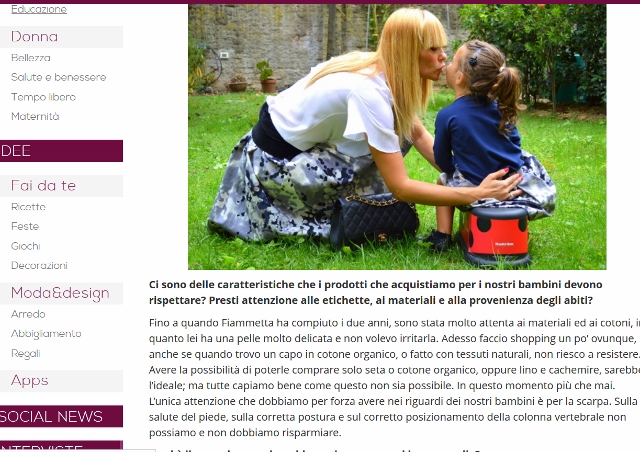 PARTE SECONDA
Ecco la seconda parte della mia intervista per Mamme.it.
QUESTO IL LINK PER LEGGERLA DIRETTAMENTE.  INTERVISTA – LA FASHION BLOGGER DEI PICCOLI
QUI, invece, puoi vedere la PRIMA PARTE.
I ringraziamenti sono quelli, i sentimenti gli stessi.
GRAZIE GRAZIE GRAZIE. Ancora una volta.
SECOND PART 
Here is the second part of my interview for Mamme.it.
THIS IS THE LINK TO READ IT DIRECTLY. INTERVIEW – THE CHILDREN'S FASHION BLOGGER 
HERE, instead, you can see the FIRST PART.
Thanks are those, the feelings are the same.
THANK YOU THANK YOU THANK YOU. Also this time.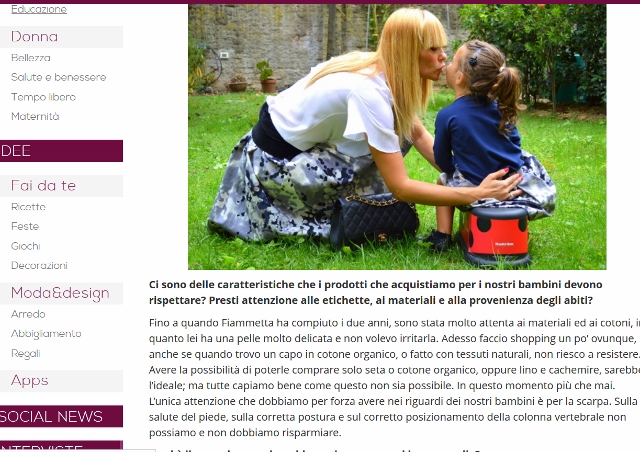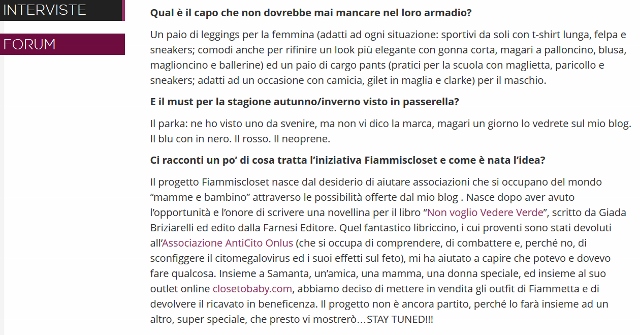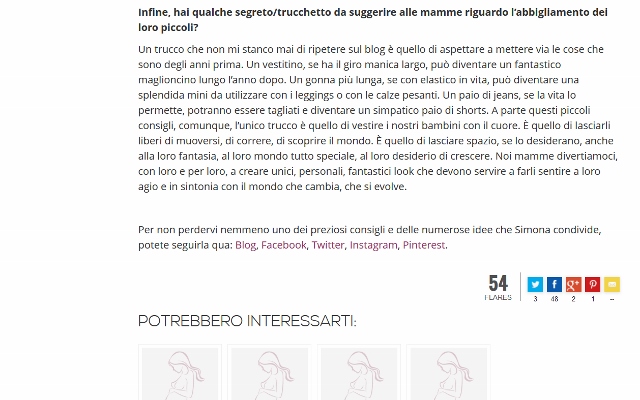 HERE IS THE TRANSLATION
Let's continue to know Simona Mazzei: one of the most followed bloggers in the country with her Fiammisday.com.
There are some features that the products we buy for our children must respect? Do you pay attention to the labels, fabrics and provenance of the clothes ?
Until Fiammetta has completed two years , I have been very careful to fabrics and cottons, as she has a very sensitive skin and I did not want to irritate her. Now I shop everywhere, even when I find a garment in organic cotton, or made ​​in natural fabrics, I can not resist. It would be perfect to have the option of being able to buy only organic cotton or silk, or linen and cashmere, but all we understand that this is not possible. At this time more than eve. The only concern we should need to have towards our children is for the shoe. On the health of the foot, on the correct posture and on the proper positioning of the spine we can not and we should not save.
What is the garment that should never fail in their closet ?
A pair of leggings for female (for all the occasions: sporty alone with long t-shirt, sweatshirt and sneakers, comfortable  to refined a more elegant look with a short skirt, maybe a balloon skirt, blouse, sweater and ballerinas shoes) and a pair of cargo pants for male (practical for school with t-shirt, sneakers and crewneck sweater; suitable to a special occasion with a shirt, knit vest and clarks) for the male.
And a must for the autumn / winter season seen on the catwalk?
The parka. I saw one to die for, but do not tell you the brand, maybe one day you'll see it on my blog. The blue with black. Red. The neoprene.
Can you tell us a little about the initiative Fiammiscloset and how did you get the idea?
The project Fiammiscloset was born from the desire to help associations dealing with the world " mothers and children" through the possibilities offered by my blog. Born after having had the opportunity and the honor of writing a novel for the book "Non Voglio Vedere Verde" written by Giada Briziarelli and published by FARNESI EDITORE. That fantastic little book, whose proceeds were donated to the Association AntiCito Onlus (which is concerned with understanding, fighting, and why not, defeating the cytomegalovirus and its effects on the fetus), helped me to realize that I could and I had to do something. Along with Samanta, a friend, a mother, a special person, and together with her closetobaby.com outlet online, we decided to sell the outfits of Fiammetta and to donate the proceeds to charity. The project has not started yet, because it will do with another one, super special, which I will show you soon … STAY TUNED !
Finally, do you have any secret / trick to suggest to mothers about their children 's clothing?
One trick that I never get tired of repeating on my Blog is to wait to put away the garments that are from the years before. A dress, if it has the wide armholes, can be a perfect long sweater the year after. A longer skirt, whether with elastic waist, it can become a beautiful mini with leggings or with heavy tights. A pair of jeans, if the waist permits it, will be cut and become a cute pair of shorts . Apart from these small tips , however, the only trick is to dress our children with the heart. We have to leave them free to move, to run, to discover the world. We have to leave space, if they wish, to their imagination, their very special world, their desire to grow. We moms must have fun with them and for them, to create unique, personal, fantastic look which should serve to make them feel at ease and in tune with the changing world, that is evolving.
In order not to miss one of the many valuable tips and ideas that Simona shares, you can follow her here : Blog, Facebook, Twitter, Instagram, Pinterest.
THANKS AGAIN…………
Related articles: