And after BACK to SCHOOL for  your daughter, here is some advice for some outfits for Back to School for your son…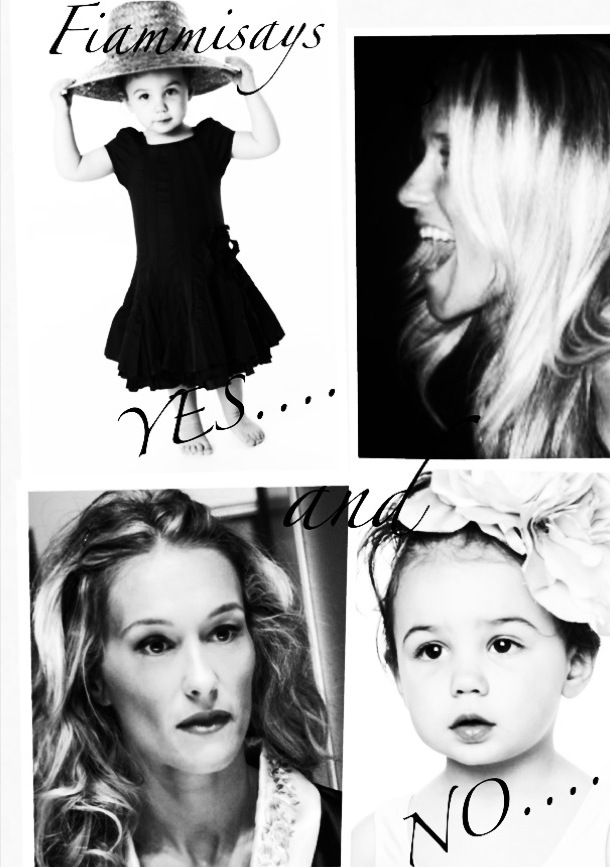 Here we are…. this is the 35° appointment with my section "FIAMMISAYS" started on July 2012. For an introduction and brief description of my new "adventure", take a look HERE (you can find there all the others appointments)
Today YES for SON on this BACK to SCHOOL. ENJOY!!
SON
For those who want to be free to enjoy all the moments of the back to school, with an eye to modernity and new trends.
YES TO
THE GREY, I had already mentioned and now I tell you loudly. The Grey is one of the MUST HAVE colors for back to school and throughout the autumn of this year 2015.
It will be perfect for the female and a must for the boy.
It a chic, elegant, to be combined with really everything color. You can find GREY for all tastes and for all budgets. Beautiful and super trendy the total look (the sweatshirt, T-shirt, pants, shoes all in grey), refined matched with the white, the black, or even the blue.
The plain garments (all in grey I mean) will be beautiful. The checked gray or the gray stripes will be super fine and perfect for your little boy and for his look for Back to School that will be original and non-obvious.
Super cool also the gray shoes.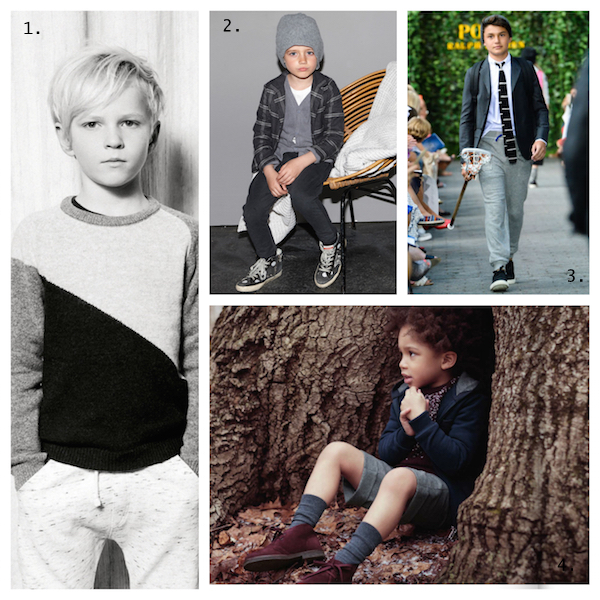 1. Finger in the nose  2. Douuod Kids  3. Polo Ralph Lauren Children  4. Il Gufo 
THE CARDIGAN. Nothing more appropriate for back to school.
Cardigan reminds immediately to the school, to new beginnings, to new look. I really like it also to Fiammetta, but, if I had a son, I'd run to buy at least two of them. One gray and one fun and colorful.
The cardigan is perfect for this back to school still warm and sunny, but with the temperature a bit lower in the evening and in the morning. The cardigan is worn and removed easily and is also convenient to carry on their shoulders or tied to the backpack.
Choose the color or the print that you like and match it with a pair of comfortable pants, a t-shirt with short sleeves and a pair of comfortable and light sneakers.
Do not close it, I give you only the second-last button. Only in the case of sudden cold or a heavier model that is designed to be worn closed, I allow you to close it, okay? 😉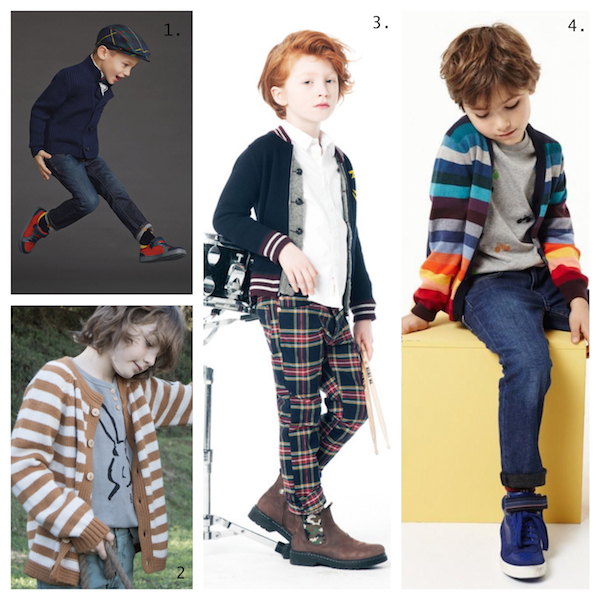 1. Dolce&Gabbana bambini  2. Bobo Choses  3. Bellerose  4. Paul Smith Junior
THE FUNNY and COLORED SOCKS and, after a look for the back to school easy (with gray) and rigorous (with the cardigan), free your (and his) imagination with a pair of socks colorful and fun.
Striped, flowered, with strange geometric patterns, tartan, super colored.
To wear strictly a little dropped with pants a little curled at the bottom, so that the print of socks can be seen easier.
Perfect with shorts, very nice with chinos. If you opt for a pair of socks colorful and fun, choose a cardigan (or a sweatshirt if you like) delicate and not too much showy, for a look for back to school colorful, but not exaggerated.
Choose, then, a printed scarf and also your desire for combinations and extravagant gonna be spoiled.
The best thing to do? Go out with your boy in the last days before the return and go with him to choose a pair of socks original for a particular back to school and that it does feel him comfortable and a little '"different from others". 😉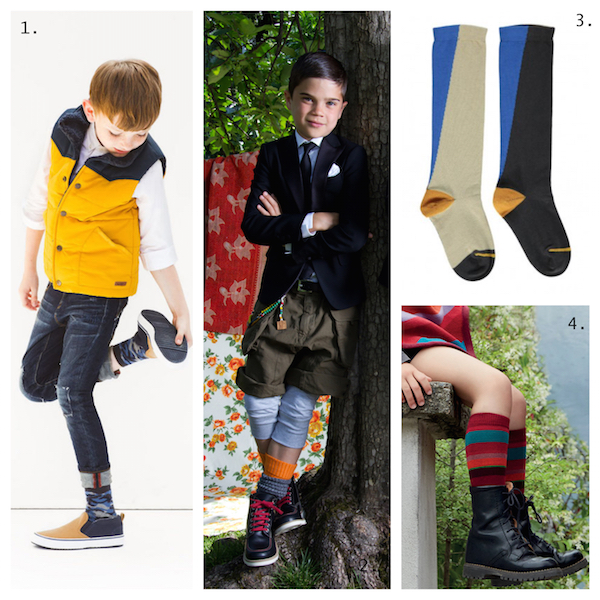 1. Zara Kids  2. Dsquared2 Junior  3. Nico Nico  4. Gallo
SEE YOU NEXT TIME
with NO for MOM for BACK to WORK
♥