Teenagers fashion with Miss L Ray and how to respond to requests from moms who are looking for a stylish fit and aware even for bigger female.
Teenagers fashion and Miss L Ray
As you know (or maybe not), the second day of Pitti Bimbo for me it was important, exciting and full of satisfaction.
A press conference that took my time, my heart and all my energy and about which we will discuss in another moment.
I could not, therefore, participate at the Apartment fashion show and I failed to observe innovations and trends presented by the wonderful Apartment brands, in fact.
Miss L Ray is one of them and today I want to show you something in this collection that is perfect for teenagers fashion. All thanks to the pictures of cute and talented Emily Kornya.
Emily was present at the parade and immortalized for all us details, significance, trends and characteristics of this English brand that I have the pleasure to show you today.
Teenagers fashion
Miss L Ray is a London brand (true homeland of novelty, innovation and trends).
The mission of this brand and of its teenagers fashion is to dress all the girls that are in that transition between being "children" and being (or feeling) "girls".
A difficult and particular moment, not only in fashion, but, above all, from the point of view of growth, of discovery, of the total change.
Little girls do not feel more children and no longer want to wear lovely skirts and headbands with bows. Little girls that are not yet women, and that can not (or should not) wear business suit, narrow skirt, heels.
Girls who are facing a passage. A difficult and complicated passage. A passage full of emotional turmoil, of change, of endless dramas.
And at this moment in the life of our girls that Miss L Ray creeps, and that comes in handy to girls and moms create a teenagers fashion that is suitable, perfect, compliant at the time that you are living .
Miss L. Ray gives the opportunity to young girls (or almost) to choose the right fashion and their style of dress, without having to draw on mother's heads and without copying adults or women.
Miss L Ray will make happy teenagers and mothers. Do not you think?
A teenagers fashion that is easy, but attentive to detail. Refined and soft fabrics that are designed and made to last. And, believe me, it is not always so obvious.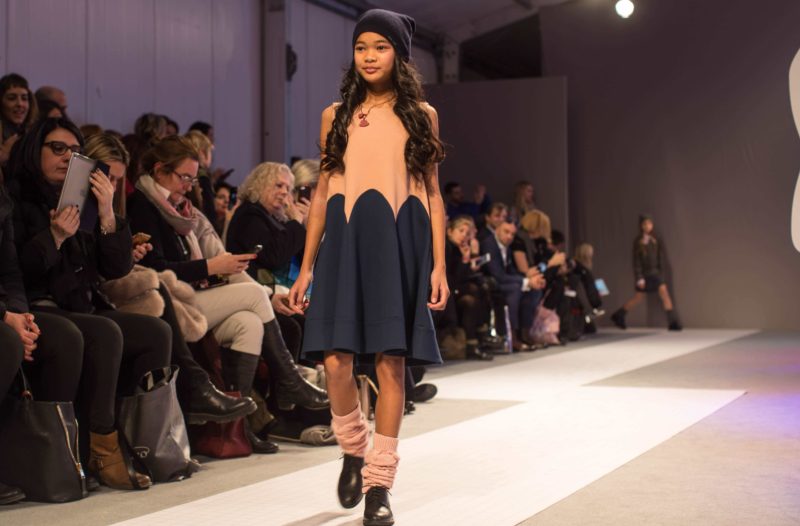 Delicate and simple clothes, but with timeless details. Feminine coats, but also suitable for the trendiest girls.
Socks with english shoes. Black for all in a period of life in which everything has dark shades and "shady".
Modernity that is never exaggerated or even never predictable.
This and much more is the trendy teenagers of Miss L. Ray and I can not wait to present it to Fiammetta.
There is also something more to discover about Natasha Milkovich (the founder of Miss L. Ray). Something that makes us very proud of the fact that they do not think exclusively to the trade, to the sale.
Do you want to know more? I suggest you take a look on the website.
Thanks to Emily and Pitti Immagine for the beautiful pictures.
♥
See you next time