And after YES in this winter season for the DAUGHTER, here are some YES (and some tips) for your little boy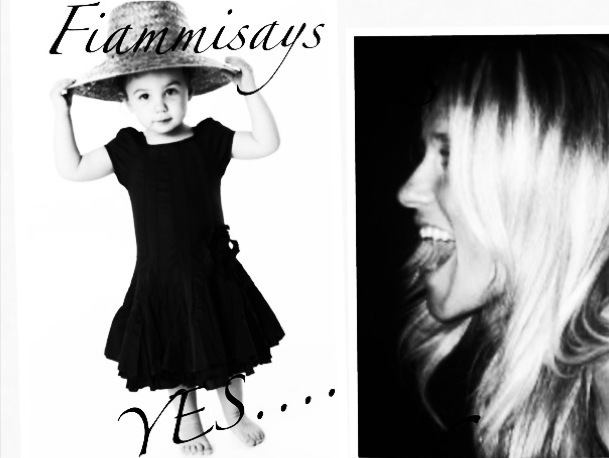 Here we are…. this is the 40° appointment with my section "FIAMMISAYS" started on July 2012.
Today YES for SON for this WINTER. Have a good time!!!
SON
For those who, like the sister, need a warm, modern and original winter. Always in style
YES TO:
CORDUROY TROUSERS, what more than corduroy calls to mind the Christmas, the winter, the days spent chatting in front of the fireplace? I would say nothing. The corduroy trousers are therefore a great YES for this winter (and for every winter) to create fine, warm, perfect for your boy look.
The touch of originality for this winter 2015? Opt for the color. Orange, red, electric blue, green and what you like. Match them with tight sweaters and colorful (too) and with leaders from the linear cuts. The corduroy trousers tend to swell, so it is always best to keep the harmonious proportions.
NO combined with the down jacket, the volumes become too important;-)
1. Il Gufo  2. Tartine & Chocolat  3. Deux par Deux  4. Stella McCartney Kids
THE BLAZER with SWEATPANTS. Here it is an original, modern and aggressive way to wear the gym suit. Combined with the blazer.
I mean. I'm telling you YES only to sweatpants (only the pants, mind you) that they can be worn in a more "masculine" and fun matching them to the blazer.
The blazer, which will be an ideal garment for Christmas and for all the Christmas holidays, become convenient and practical combined with a pair of sweatpants.
Sporty blazers for everyday. A bit more refined blazers, which usually your boy wears only for special occasions, become, then, fashion for every day if you have a t-shirt and sweatpants.
A pair of lace-ups or a modern ankle boot and you're done. Even on Christmas Day.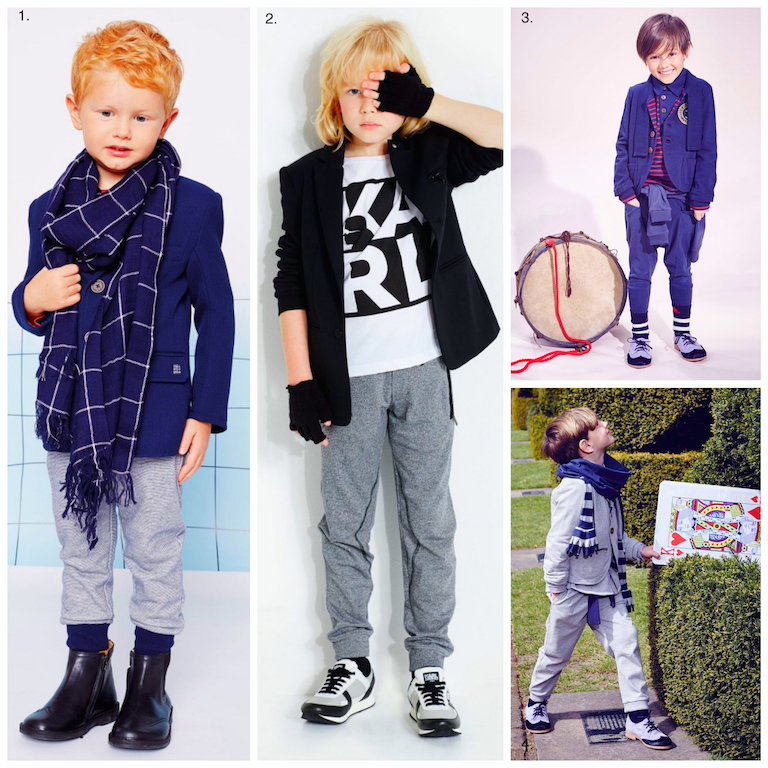 1. Carrement Beau  2. Karl Lagerfeld kids 3. Jessie James  4. Jessie James
THE DERBY. They can not really miss in the closet of your boy for these Christmas holidays. The Derby (or laced shoes) will be the joker to pull off to complete and make special too casual and sporty look.
You have an evening a bit more chic to which you must also bring your child? Ok, pulls out his derby and his sweat jacket. You'll see that you can not go wrong.
You can find derby for all budgets and all tastes.
Aggressive ones with the highest para, timeless ones with the round tip, sporty ones the colored ones, super chic ones the patent leather ones.
Choose the ones you like and you'll see that your son will be happy and his look will be perfect for Christmas and throughout the winter.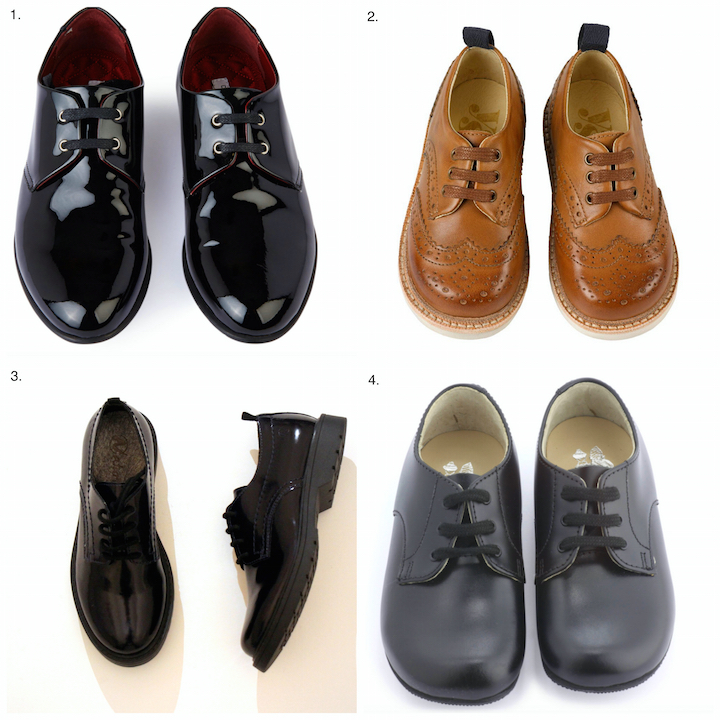 1. Dolce & Gabbana kids  2. Young Soles  3. Naturino   4. Start Rite
♥
Is everything clear?? 😉 
See you SOON with NO for MOM for this WINTER
♥