We start again. New projects, new things to do, new garments in the closet. Are we really ready for this BACK to WORK? Here are some tips..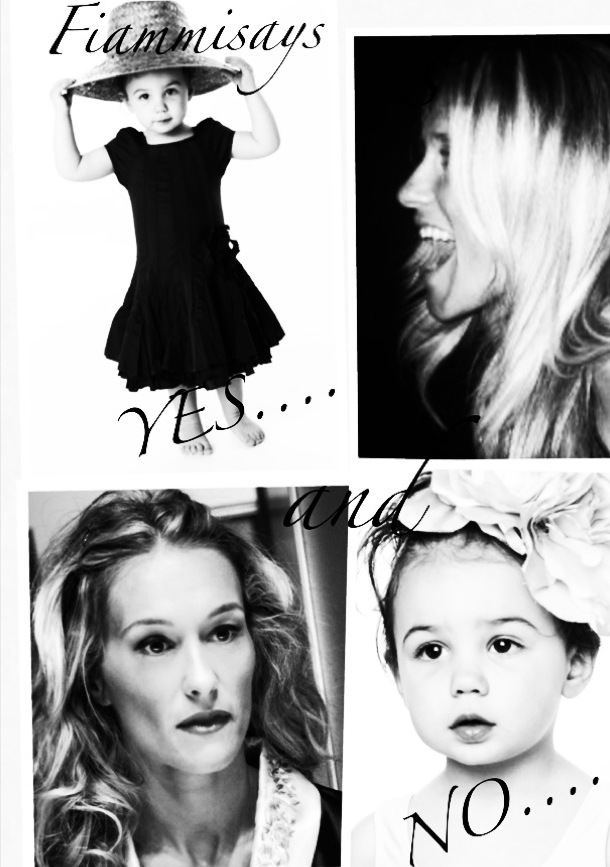 Here we are…. this is the 33° appointment with my section "FIAMMISAYS" started on July 2012. For an introduction and brief description of my new "adventure", take a look HERE (you can find there all the others appointments)
Today YES for MOM on this BACK to WORK. ENJOY!!
MOM
For who like me want to get back to work with energy and enthusiasm and need something special, even if not too special
YES TO:
THE NEW MINIMAL (less is better), I really need it and you? It happens to me often, when I return from holidays, to look for the "LESS". Less color, less flowers, less stripes, less, in fact. This year the fashion comes to us more than ever by offering entire collection dedicated to minimal. Basic colors (white, beige, black), strict forms, total look. I find this trend perfect for Back to Work. Go ahead, then, to fully beige trouser suit, a black knee-length skirts with boots and blacks cardigan on a size below (or a black jumpsuit that is super chic and super feminine) white trousers (white is also for the winter) with a high waist with light colored blouses and white jackets. I love it and I think it will be one of my MUST until next urgent desire of flowers .. 😉
If you do not like the look minimal and monochromatic, add a touch of gray or a checked coat and you will be perfect.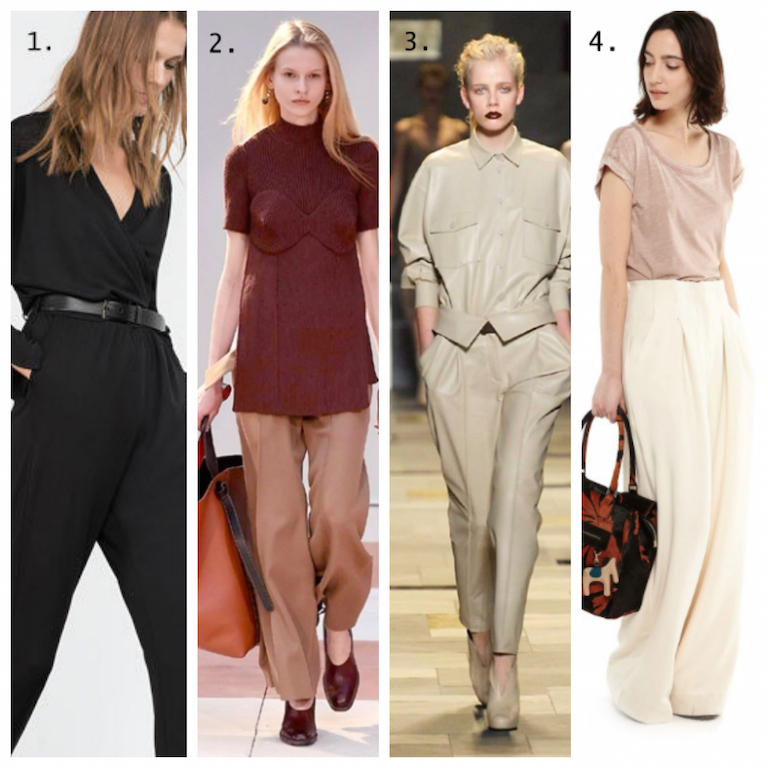 1. Zara  2. Celine  3. Trussardi  4. Essentiel
THE BOOTS, came back into fashion they will be the perfect accessory for this Back to Work.
There are boots for all tastes, sporty, easy, super chic, feminine, classic, modern and even fun.
The real MUST have are the cuissardes (boots second skin above the knee), but I do not love them and find them a bit hard to wear in everyday life for us moms.
If, as me, you love the boots, but do not feel like investing in cuissardes, go down below the knee and buy a pair of boots that you will wear to the back  to work and for the whole winter.
For those who like to go to work with heels they will ok the ones in suede with knee-length skirts or dresses a little below, for those who like comfort and do a job for which the heels are not required, they will be fine low ones (low heel I mean) to wear with skirts a little shorter or bermuda.
If you love fun, opt for those colorful or fancy, you'll find them as you like. The boots are really a MUST have for this winter season 2015/2o16. For this Back to Work uses your tan and wear them without socks with knee-length skirts.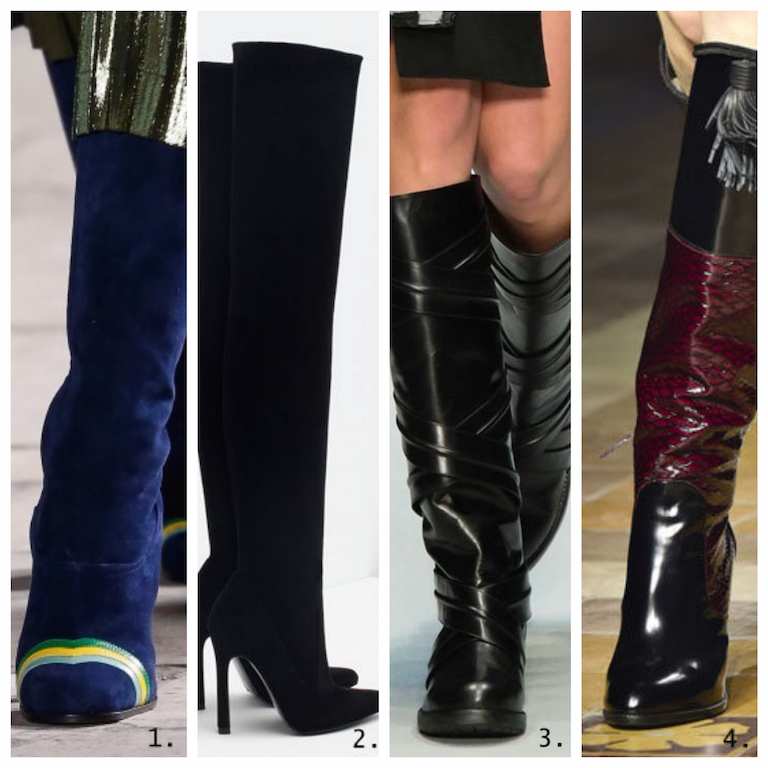 1. Loewe blu  2. Zara  3. Guy Laroche  4. Lanvin
THE LONG COAT. Stop with down jackets, bomber jackets, capes, the time of coat is back. The coat is really perfect for a back to work in the name of femininity and desire to wear comfortable but chic clothes.
This year, if you really want to be completely fashionable, choose the coat, but opt ​​for the super long one, almost to the ground. I find it fabulous and go perfectly with every kind of look.
The long coat is wonderful with palazzo pants and a mini sweater, but it will be just as perfect with a midi skirt and your boots (see above).
Super trendy the checked one and, for the first cold, the wool one (another seasonal MUST about which will be discussed in another moment).
I know that your back to work will take place (if it has not already happened) with very hot temperature, but you can always take the coat on your arm and, in this way, showing your last purchase.  You will also love to admire it when your mind will come melancholic to the holidays, the sea, the swimwear.
Last tip: try wearing it open, it will be much more chic .. 😉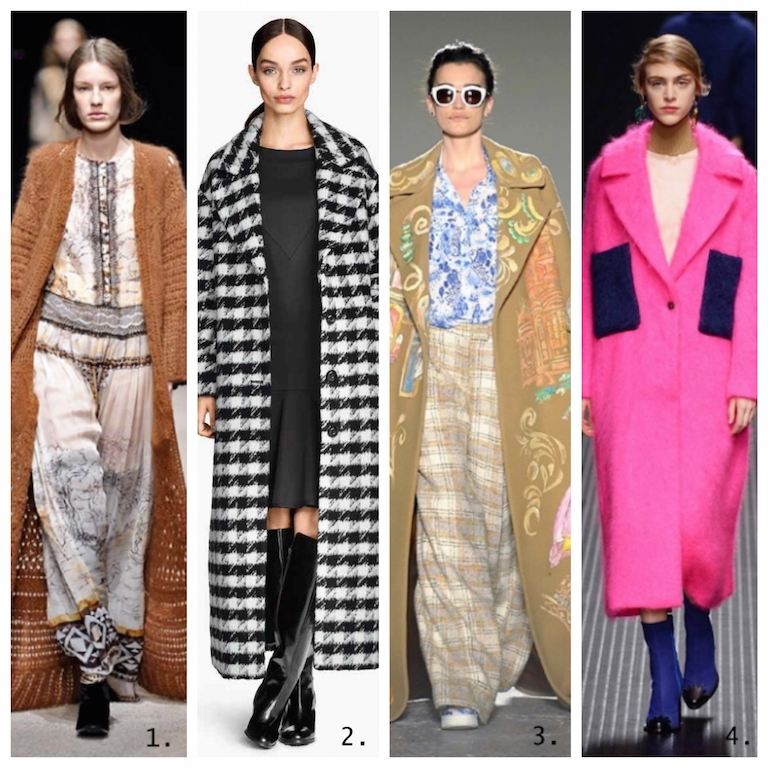 1. Alberta Ferretti  2. H&M  3. Stella Jean  4. MSGM
And to have some fun, these were my YES and NO for BACK to WORK for the last year. Strange to read a year later, is not it ?? 😉
SEE you SOON
with YES for DAUGHTER for BACK to SCHOOL
♥